I remember sitting on my couch waiting for my Uncle to come over because my mom, the big-bad-ER-Nurse, couldn't pull a simple tooth! It blew my mind! I'd seen her dress wounds in the hospital that made ordinary men squirm but when it came to pulling her own son's first loose tooth you could forget it. In fact, I don't recall her pulling
any
of my teeth.
Last night my youngest son lost his first tooth... and I didn't have a single dollar bill. There are few horrors in the world such as this and fortunately for me there is a gas station just a few blocks away.
What spawned this article was not the recollection of loosing my first tooth but pulling my first tooth. Just as my mother was a nervous wreck to pull
my
first tooth, I, too, was "less than stable" when it came to pulling our daughter's first loose tooth. I put together a few tips for all those other "first-timers" to make your event go as well as mine.
TOOL LIST:
- Dental Floss (to tie to the tooth)
- Pre-folded tissue (for bleeding)
- Willing child (unwilling ones aren't worth arguing with)
- A little bit o' salt-water rinse (after you pull the tooth your child should rinse their mouth out)
A few important facts:
1) Pull straight up, not out.
The
New Kids-Center
gives a few tips on how to extract those wiggly teeth but more importantly, pulling
up
on the tooth prevents further damage to the gum.
2) Control the situation.
I place my thumb on the inside of my child's mouth and on top of, their adjoining teeth. This makes sure that I am pulling the tooth away and not allowing my child to jerk their head back when they see my hand start to move. Since I'm an avid fisherman this technique is common to me. The trick isn't to jam your thumb down his/her throat but to gently control the jaw bone via the neighboring teeth. Literally just pinching the jaw-bone between your thumb and forefinger.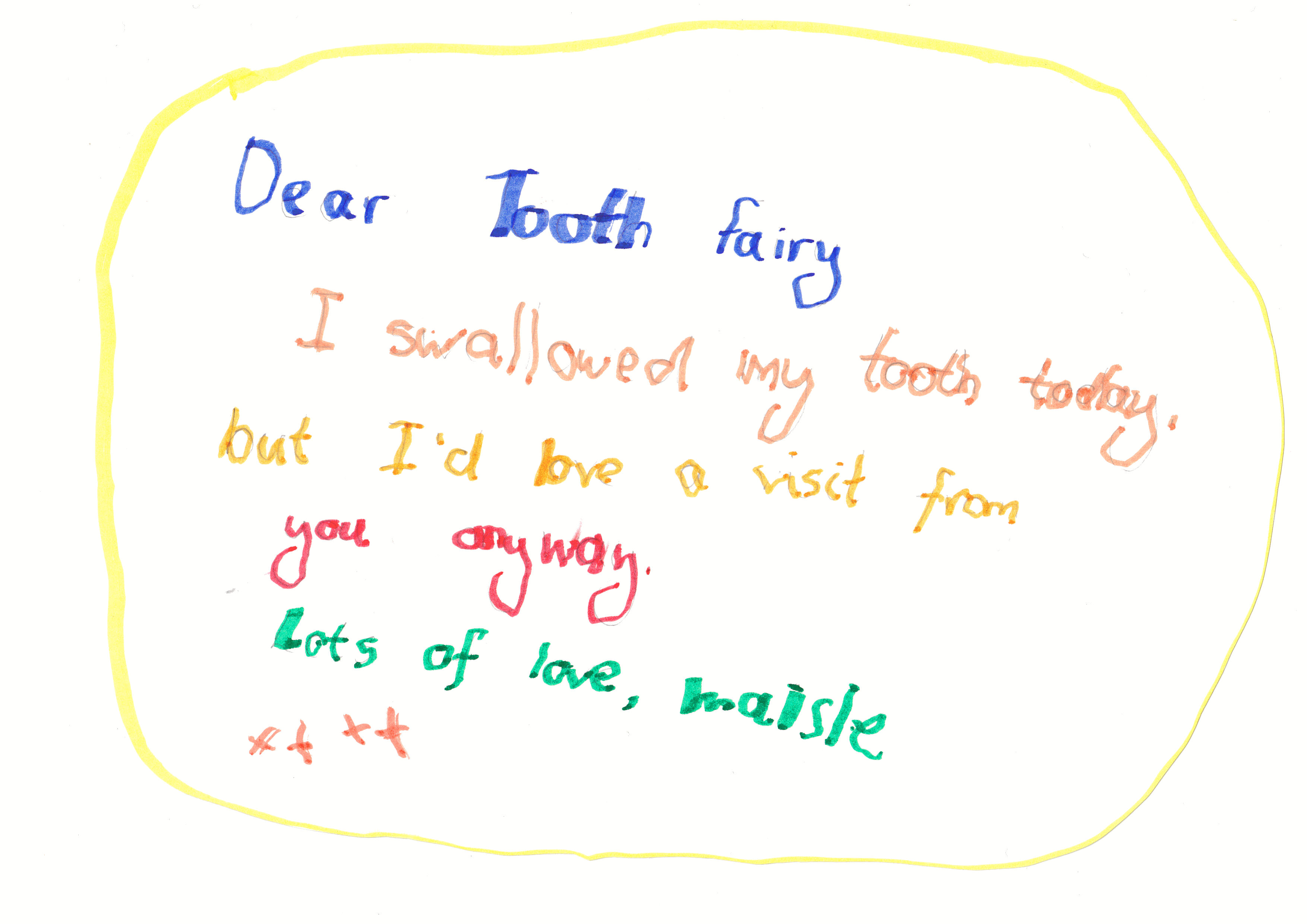 3) Don't lose it!
Literally, not emotionally. These little teeth fly and then get lost in the carpet. Try explaining that one to the tooth fairy. A good knot will keep the tooth within reach, a.k.a. tied to the dental floss. The
+Florida Fish and Wildlife Conservation Commission
has a great site that shows you
how to tie various knots
. Ultimately, a simple knot will do. Just make sure you tie it on tight, and below the widest part of the tooth which is typically the gum line.
4) Pay the kid!
Nothing worse than losing teeth and not having any coin. Of course, this is the tooth fairy's problem but you can help a fairy out at least! Another cool idea is from
+Lainie Wicks
at
Maker*Land
and they printed up
miniature letters from the tooth-fairy
. Pretty clever!
I've shared this video before from
+Make:
called the
Tooth Fairy Transport System
.
I hope this eases your tooth-pulling woes and puts you in a better position to yank those teeth out! Finally, let's all be honest and acknowledge the fact that
+Pinterest
is a real thing and
check these certificates out
...
#ToothFairy #FirstTooth #KidsDental